Coronavirus live news: Victoria faces highest lockdown as South Africa cases pass 500,000 | World news
4 min read
Nick Kyrgios withdraws from US open
The Victorian government is set to announce the details of tougher lockdown measures on Sunday afternoon.
Guardian Australia understands the premier, Daniel Andrews, will spell out the details shortly after lunchtime on Sunday, but they are not expected to include a shutdown of public transport that has been mooted in some media reports.
The ABC's Insiders program reported that the stage 4 lockdown was likely to include further restrictions affecting retail outlets, abattoirs and call centres, while restaurants and cafes would be allowed to offer takeaway if they abide by "strict contactless service provisions". The ABC reported that there could be some restrictions on the operation of Uber and taxi services – and that the tougher restrictions would apply beyond metropolitan Melbourne.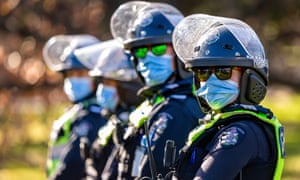 The federal education minister, Dan Tehan, signalled on Sunday that the federal government would be supportive of additional measures aimed at reducing community transmission in Victoria.
Summary